Nov. 19, 2022.
The Nov. 2022 entertainment news cycle was a hot and sour mix of celebrity deaths, celebrity health issues, and broken records. Take this FOMO Entertainment News Quiz to ensure you didn't miss anything important: From celebrities on social media to new movies.
Take the Entertainment Quiz
🎥 Play the Nov. Entertainment VIDEO QUIZ
Found a mistake? Tell us!
Come back tomorrow for another quiz!
Like the Quiz?
Please consider subscribing to our FREE 😎 newsletter and never miss a quiz!
You can always unsubscribe later.
More Celebrity and Entertainment Quizzes for You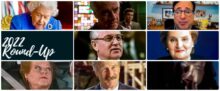 The Nov. 2022 Entertainment VIDEO QUIZ
12 Entertainment news questions. 30 Seconds per answer. How many questions can you answer in six minutes?
Sources for the Nov. 2022 Entertainment News Quiz
Here are some of the most prominent showbiz and entertainment news reports from the past month.
The Nov. 2022 Entertainment News Quiz Questions
Why did actress Selma Blair leave 2022's "Dancing with the Stars"?
Health concerns related to MS.
Harassment allegations.
Failing to do the cha-cha-cha.
Scheduling conflicts.
After what does BTS plan to come back together as a group "around 2025"?
After all seven members launch their solo careers.
After all seven members complete their military service.
After all seven members start a family.
After all seven members finish school.
Who is this enchanting lady?
Screenshot: The School for Good and Evil / Netflix
Scarlett Johansson.
Sharon Stone.
Charlize Theron.
Jessica Chastain.
He's the singer that made "Great Balls of Fire" famous.
Jerry Lee Lewis.
Little Richard.
Chuck Berry.
Johnny Cash.
Who holds the record for most simultaneous top 10 hits on Billboard's Hot 100 charts?
Michael Jackson.
The Beatles.
Drake.
Taylor Swift.
Who is the actress portraying this blue computer-generated creature?
Zoe Saldana.
Margot Robbie.
Kate Winslet.
Sigourney Weaver.
What did Rebel Wilson name her baby girl born in 2022?
Bentley.
Royce.
Mercedes.
Aston.
What's 2022's "Avatar: The Way of Water"'s runtime?
Screenshot: Avatar: The Way of Water / 20th Century Studios
Nearly 30 minutes shorter than 2009's "Avatar."
Nearly 30 minutes longer than 2009's "Avatar."
About as long as 2009's "Avatar."
About as long as 2021's "Zack Snyder's Justice League."
According to Jennifer Aniston, why didn't she have kids?
Photograph by Zoey Grossman / Allure
She was selfish.
She hates kids.
She preferred her career.
No one told her to freeze her eggs.
Who wrote the classic "A Christmas Carol" ghost story?
Screenshot: Spirited / Apple TV+
Charles Dickens.
Mark Twain.
Oscar Wilde.
Edgar Allan Poe.
What's Apple Music's most streamed album of 2022?
Photo: Apple
Midnights by Taylor Swift.
Un Verano Sin Ti by Bad Bunny.
30 by Adele.
Donda 2 by Kanye West.
Who is the Grammy's most nominated artist ever?
Beyoncé.
Beyoncé tied with Jay-Z.
Jay-Z.
Quincy Jones.
Premium Downloads